Welcome to our pastures!
…where the lambs and calves bounce, the birds sing, the bees and insects buzz, and everyone enjoys our pastures full of lush grass and flowers.
We are a small family farm in south-central Minnesota near the town of Gibbon. We raise lamb and beef from birth until harvest on our diverse pastures. Our sheep and cows display superior health as they peacefully graze the diversity of plants in our pastures. One mouthful at a time, they mimic the herds of buffalo that were once part of this land, pulsing the grassland system in this natural way to build health and diversity both in the soil below and in the ecosystem above.
We truly believe that a pasture system is the best way to raise ruminant animals (cows, sheep, goats, etc.), as these animals have the unique ability to derive energy from grass and other plants. Our cows and sheep are raised entirely on forages, with no supplemental grain, resulting in truly delicious and healthy meat.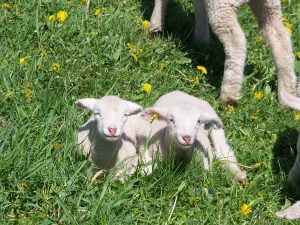 In addition to meat, our sheep also give us some amazing wool. See our wool and fleeces page for fleeces we have available from our spring shearing. Not into spinning? Needle felting is a great way to play with some natural fiber without any big equipment commitment. We sell smaller amounts of hand washed and dyed wool to sculpt into whatever you can imagine! We also have some needle felting kits available.